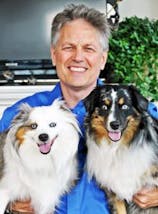 My goal in real estate is to treat people the way I expect to be treated – with keen interest, knowledge and courtesy. You see, I am in my SECOND career in Real Estate!
First time around, I was a Buyer and Seller of homes for my family as they grew up – not much different from YOU! So, I understand your goals and plans as well as your fears and frustrations.
Let me be your trusted advisor and guide you through the fast-paced and ever-changing real estate marketplace.
Enough from me, let my customers & friends tell you more….
Ken is the BEST real estate agent I have ever met!
– D S
---
Since we moved to Toronto, Ken has practically adopted us.
One day my husband came home & told me, "I was with
Ken & I bought today, the perfect home!" Ken made the
purchase process so smooth & fast. He was with us every step,
giving honest advice, guidance & help.
Ken is now not only our new friend, he is part of our family.
– H S
---
"Thanks, Ken. I really appreciate your attention to detail and solid advice on getting
the best property for us!"
– B R
Want to hear more? Click here